Charlotte Warsen | If I touched the earth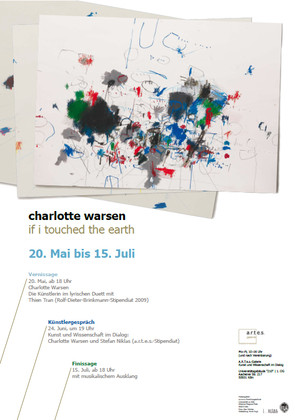 Ausstellung: 20.05. - 15.07. 2010
Vernissage: 20.05.2010 ab 18 Uhr
Künstlergespräch: 24.06.2010 ab 19 Uhr mit Charlotte Warsen und Stefan Niklas (a.r.t.e.s.-Stipendiat)
Finissage: 15.07.2010 ab 18 Uhr
Die A.R.T.e.s.-Galerie feiert Premiere und freut sich, die Werke der Düsseldorfer Künstlerin Charlotte Warsen in der Ausstellung "if I touched the earth" zu präsentieren.
"I think, that if I touched the earth,
It would crumble!"
Die Leichtigkeit und Zerbrechlichkeit, die in diesen beiden Zeilen aus dem Gedicht "Clown in the Moon" des walisischen Dichters Dylan Thomas anklingt, findet sich auch in den Zeichnungen von Charlotte Warsen. Gleich einem Seismographen zeichnet ihre Hand unmittelbar innere und äußere Spannungen auf, gräbt Linien in das Papier ein oder hinterlässt leichte, kaum sichtbare Spuren auf der weißen Oberfläche. In einigen Zeichnungen sind noch Anklänge an Landschaften erkennbar, in anderen lösen sich die Bergketten und Baumwipfel vollständig in der Abstraktion auf. Mal sind es nervöse Striche, die sich verästeln und Netzwerke bilden, sich verdichten und wieder auflösen, mal kräftige Farbflecken, die schwerelos auf der Bildfläche schweben, sich in den rhizomartigen Strukturen verfangen oder weich wie Wattebäusche auf ihnen ruhen. Wie zufällig sind die Punkte und Linien auf dem Papier verteilt. Manche Striche und Flächen scheinen jedoch bewusst gegen- und zueinander in Beziehung gesetzt. Ihre Anordnung changiert zwischen Ordnung und Unordnung, System und Chaos.
Übrigens: Wie kommt es eigentlich, dass Charlotte Warsen nicht nur zeichnet, sondern auch Gedichte schreibt? Und wo liegen eigentlich die Schnittpunkte von Kunst und Wissenschaft? Der Katalog zur Ausstellung widmet sich diesen Fragen und zeigt nicht nur die Grafiken von Charlotte, sondern auch ihre Worte - und unsere Worte. Wissenschaft und Kunst im Dialog eben.