Emanuele Caminada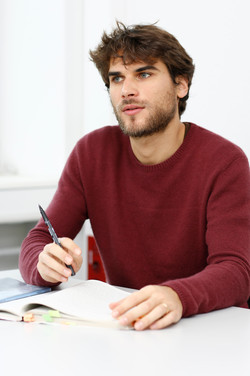 Emanuele Caminada is assistant professor of phenomenology at the Husserl Archives of the Institute of Philosophy, KU Leuven.
In 2013 he earned his PhD in the framework of a co-tutelage between the University of Cologne and the Istituto Italiano di Scienze Umane. From 2003 to 2008 he studied philosophy at the Università Vita-Salute San Raffaele, Milan.
From 2013 to 2016 he was a postdoctoral researcher at the interdisciplinary Research Lab of a.r.t.e.s. Graduate School for the Humanities Cologne and was responsible for planning and writing the application for the Doctoral Programme a.r.t.e.s. EUmanities (MSCA COFUND 2015, Grant 713600).
His main research interests and publications include: phenomenological methods and movements, social ontology, interdisciplinary anthropology, the phenomenology of common-sense, aesthetics, philosophy of religion and politics.
He is on the editorial board of metodo-rivista.eu and serves as a reviewer for several international journals in philosophy. He is a registered expert for the European Commission's Programme for Research and Innovation.
Publications
https://hiw.kuleuven.be/hua/staff-hua/00110349
Selected talks
2016
Genetic Phenomenology and Material Things, Cologne Summer School in Interdisciplinary Anthropology (Sep. 2016)
Lebenswelt in Ideen II, Cologne-Leuven Summer School in Phenomenology 2016 (Jul. 2016).
Phantasie, leiblicher Ausdruck und Verkörperung, Ringvorlesung Körpertechniken – Imaginationstechniken, Universität zu Köln (Jul. 2016).
«omnes ens est aestimativum»: On Scheler's Formal Axiology and Metaphysics, Feeling, Valuing, and Judging: Phenomenological Investigations in Axiology, St. John's University, New York City (May 2016).
2015
Europe and Vocational Ethics, Social Phenomenology: Persons, Vocations, Goals Subjectivity, Historicity, Communality. Studies in Philosophy and Political Sciences - University of Helsinki
(Nov. 2015).
Denken ohne Sprache. Welcher Erkenntnisgewinn für die Anthropologie? Fühlen, Denken, Erkennen. Erfahrungsphänomenologie im Spannungsfeld zwischen Mensch und Tier. Internationale Tagung an der Universität zu Köln
(Okt. 2015).
Was heißt Natur für den Menschen? Einige Überlegungen im Ausgang von Schelers Wissenssoziologie, Menschliche Natur jenseits der Naturalisierung, Institut für Philosophie und Soziologie der Polnischen Akademie der Wissenschaften
(Okt. 2015).
How to Face the Social Embedment of the Intertwining of Empathy and Imagination?, Imagination, Intersubjectivity and Perspective-Taking, Villa Vigoni (Jul. 2015).
Emotions, Imaginations and Sociality, Cologne-Leuven Summer School in Phenomenology (Jul. 2015).
Relativ natürliche Weltanschauung & common sense, XIII International Conference of the Max Scheler Gesellschaft, Verona (Mai 2015).
Fenomenologia del senso comune, Laboratorio di Filosofia Pratica, CeSEP – PERSONA Facoltà di Filosofia – Università Vita-Salute San Raffaele, Milano (Mai 2015).
Embodied Rhetoric: Tino Sehgal's Immaterial «Constructed Situation» (mit Francesca Valentini), Building Consensus. Rhetoric between Democracy and Conflict, International Conference, Palermo (Apr. 2015).
Plurale Habitūs. Zur Sozialisierung der phänomenologischen Philosophie, Husserl Arbeitstage 2015, Freiburg (Jan. 2015).
2014
Kann reine Aktualität in einem einzigen, obgleich unendlichen Subjekt verortet werden? Die transzendentale Gottesfrage bei Scheler, Husserl und Stein, Internationale Tagung aus Anlaß der Fertigstellung der Edith Stein Gesamtausgabe (ESGA) an der Universität zu Köln (Nov 2014).
Naturalistische und Personalistische Einstellung, Cologne-Leuven Summer School in Phenomenology (Jul. 2014).
2013
Do We Need a Bearer for Common Experiences? Stein on the Stream of Experience of the Community, Empathy, Community and the State: The Social Philosophy of Edith Stein, University College Dublin (Dez. 2013).
Background and Horizon of Collective Intentionality: Gerda Walther's Embedment Analysis of We-Intentionality, The we and its phenomenology, Center for Subjectivity Research Copenhagen, (Nov. 2013).
Die Phänomenologie und die Entdeckung des Gemeingeistes, Soziale Erfahrung. Internationale Tagung des Husserl Archivs der Universität zu Köln in Zusammenarbeit mit der Deutschen Gesellschaft für Phänomenologie (Sep. 2013).
Gerda Walther's Embedment Analysis of We-Intentionality, Social Reality: The Phenomenological Approach, Department of Philosophy, University of Vienna (Mär. 2013).
2012
Zur konstitutiven Funktion habitueller Gesinnungen, Husserl-Arbeitstage 2012. Feeling and Value, Willing and Action, KU Leuven (Nov. 2012).
Phenomenology and Common Mind, Collective Intentionality VIII, University of Manchester (Aug. 2012).
2011
Wir-Intentionalität, Kölner Husserls Arbeitstage 2011. Natur und Geist, Universität zu Köln (Okt. 2011).
Pluraler Habitus: Sozialer Hintergrund und Gemeingeist, Phänomenologie des Menschen und die Grundlagen einer modernen Sozialtheorie, Polskiej Akademii Nauk, Watszawa
(Jun. 2011).
The Phenomenological Background of Collective Positionality, Making the Social World. Spring School and International Conference, Milano Università Vita-Salute San Raffaele (Jun. 2011).
2010
Joining the Background, Collective Intentionality VII, Universität Basel (Aug. 2010).
Higher-Order Persons: A Double Ontological Challenge, The Phenomenological Mind. Winter School, Milano Università Vita-Salute San Raffaele (Jan. 2010).
2009
Formale und materiale Ethik, Freiburger Husserls Arbeitstage. Albert-Ludwigs-Universität Freiburg (Nov. 2009).
Photo: Patric Fouad