Selected Language Not Found
This page is not available in the language that was selected in the URL (L=19). You will be redirected to an existing language of this page. Please click here to go to an existing language.
Prof. Dr. Birgit Hellwig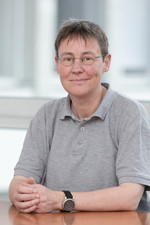 Current research projects
Documentation of children's speech: Qaqet Baining of Papua-Neuguinea (Volkswagenstiftung, Lichtenberg Programme)
This projects integrates perspectives from speech documentation, language acquisition (Psycholinguistics) and speech socialisation (Anthropology), to document the children's language under the Qaqet Bainin. More information here.
Split ergativity in Tima
Together with Gerrit Dimmendaal und Gertrud Schneider-Blum we research synchronic and diachronic aspects of split ergativity in Tima, a sudanese Niger-Kongo-language. More information here. The project is part of the DFG-funded Sonderforschungsbereich 1215 Prominence in Language.
Personal details
Academic career
Publications
Publications